LAHORE, ISLAMABAD, KARACHI, RAWALPINDI, SIALKOT, SHEIKHUPURA: (Dunya News, Web Desk) – Protesters on Saturday blocked entrances to almost all the major cities of Punjab including Lahore, Sheikhupura, Gujranwala, Faisalabad etc as the security agencies initiated an operation against them in the national capital Islamabad. The protesters had been sitting at the Faizabad Interchange, which is the entrance into Islamabad, for last several days. Supreme Court (SC) had ordered the protesters to evacuate the area last week after taking a suo moto notice of the issue.
So far 220 people have been injured in the operations so far. Over 300 people have been arrested. Dozens of police officers and paramilitary personnel were also injured during the skirmishes. The protesters throughout the country have demanded that the protesters arrested by the government during Faizabad operation must be released. Tehreek-e-Labbaik Ya Rasool Allah (TLY) claims that 17 people have died so far.
However, the police and FC personnel are now regrouping and another major operation is about to be launched. PML-N MNA Nizamuddin Sayyal also resigned from his seat in protest against the operation.
---
Live Updates on Islamabad operation
---
---
November 26, 2017
---
12:00: Natioanl T20 tournament's final, semi-final adjourned for indefinite period in Rawalpindi: PCB
11:19: Provincial Minister for Education Rana Mashhood has said that all the educational institutions in Punjab will remain close for two days due to the ongoing protests. The decision will be applicable on all private and government educational institutions.
10:16: Funeral prayers of two protesters killed in yesterday's crackdown to be offered in Faizabad today. Protesters have said that the prayers will be held outside Parliament.
10:15: Reply to notification pertaining to the deployment of Army in Islamabad sent to Interior Ministry. The reply says that army's duty is not to disperse the protesters but preventing violent confrontation therefore; some matters have to be clarified in this regard. It states that the police was not utilized according to its full capabilities to tackle the protesters. Moreover, no written orders were forwaded to the Rangers. The reply says that the court has forbiddent he use of fire arms against the protesters. Interior Ministry has copy pasted the previous notification, it adds.
---
30: Protesters set alight five personally owned motorcycles and one car of policemen near Kachnar Park in I-8 Islamabad. The protesters also hurled stones at the security personnel and tried to take them hostage but were saved by Rangers. However; no action was taken by the police against the incident.
9:25: Motorway M-1 from Peshawar to Islamabad restored completely.
9:11: Heavy contingent of police deployed at Shahrah-e-Faisal, CM House as protest continue at Mall Road outside Punjab Assembly.
9:10: Motorway closed from M-2 Islamabad to Pindi Bhattian.
08:30: Agitated protesters continue to stage sit-in in at Faizabad interchange on 21st day while similar situation exist in various cities of the country.
08:00: Security beefed up at Interior Minister Ahsan Iqbal's residence.
 07:45: Protesters shut down Motorway terminal at Thokar Niaz Baig by placing containers.
 06:15: Sit-in protest by Tehreek-i-Labaik workers continues in front of Punjab Assembly building. The protesters vowed to continue the sit-in as long as their demands aren't met.
 05:00: Protesters in Faisalabad end sit-ins at Jamia Chishtiya Chowk and Sargodha Road. Workers asked to reach District Council Chowk ar 8:00am to again stage a sit-in.
 04:15: Protesters at Thokar area of Lahore partially end sit-in. Motorway, Multan Road reopened for traffic.
03:00: Faizabad sit-in enters 21st day. Meanwhile, protests, sit-ins continue across the country including Lahore and Karachi against Faizabad operation.
02:00: Sit-in continues in front of Punjab Assembly against Faizabad operation.
01:30: The situation started to become normal in Rawalpindi after day-long protests. Protesters also ended the siege of Chaudhry Nisar's residence.
0045: Protesters cleared Murree Road and limited themselves to Faizabad only. Road leading from Double Road to Islamabad also reopened for traffic.
0011: Sit-ins continue on various locations in Lahore, Karachi and Islamabad. Sit-ins are being held at 19 points in Lahore.
---
November 25, 2017
---
2357: Trains coming to Karachi from almost all parts of the country get late due to the protests. 
2355: Protests continue in Sialkot as the religious parties hold sit-ins on all the exit points of the city. TLY and other parties are holding sit-in at Do Burji Chowk. The sit-ins have been joined by religious clerics and workers of the religious parties. Roads are blocked while the traffic is almost at a standstill throughout the city.
The protesters demand immediate release of all those arrested in Islamabad sit-in and dismissal of Interior Minister and Federal Law Minister. They vowed to continue the sit-in as long as the demands aren t met.
2350: Passengers have gathered at Hyderabad Railway Station in large numbers as the trains coming from Punjab haven t arrived as yet. The passengers also exchanged harsh words with the railway staff. However, they were happy upon hearing the announcments of trains leaving Karachi. Pakistan Express, Allama Iqbal Express, Karakoram and Pak Business trains left Karachi station.
2308: Protesters in Faisalabad decided to regroup at District Council Chowk tomorrow at 8 in the morning.
2253: A high level meeting has been held under the headship of Interior Minister Ahsan Iqbal. The meeting was attended by the senior officials of Rawalpindi and Islamabad administrations as well as the police departments of both the cities, including Islamabad Chief Commissioner, IG, SSP and Deputy Commissioner. Rawalpindi administration, police officials and Punjab Law Minister Rana Sanaullah also joined the meeting through video conference.
After two hours of discussion, no decision was reached while Islamabad police and administration once again advised against the operation. Interior Minister will apprise PM Abbasi over the lack of decision in the meeting.
Earlier, Chief Commissioner, IG and other officials had also discussed the situation with Rangers in Islamabad.
---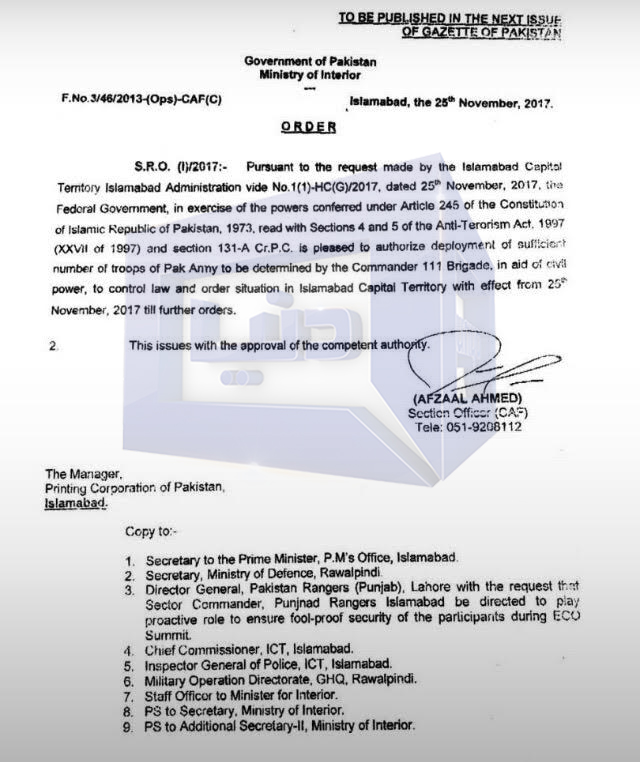 Notification issued by PM Abbasi
---
2045: The federal government has called in Pakistan Army troops under Article 245. Ministry of Interior issued the notification and ordered the 111 Brigade to take control over the capital security and ensure peace.
2035: PTA spokesperson told that only the social media sites are blocked across the country. YouTube, Facebook, Twitter and Dailymotion remain blocked, he added, affirming that these websites will remain blocked till the security situation improved. He further told that there has been no decision for the closure of mobile phone services in the cities and no such order have been received by PTA. 
2025: Lahore High Court Bar Association has announced to hold strike against the Faizabad operation on November 27.
2015: According to Islamabad PIMS officials, 186 injured were brought including at least 73 policemen and 53 common men. It was told that 100 beds were added as part of the emergency situation while the hospital has arranged staff for the upcoming shifts and kept medicines in stock. No death occurred in PIMS, informed sources confirmed.
2000: The security forces have arrested over 300 people in the bid to disperse the protest. The local administration has been incapable of taking full control over the area despite the crackdown for over 12 hours.
1929: Shelling and firing have started again in Faizabad. One has died while 5 others have been injured according to reports. Violent protesters set various shops on fire in Faizabad.
1924: Government has decided to block the mobile phone services. A summary has been sent to PM Abbasi for approval, claim sources. 
1922: Sunni Tehreek (ST) announces laying siege to former Prime Minister Nawaz Sharif s house in Raiwind at 3PM tomorrow.
1919: Rangers have also taken over the charge of Wapda House in Lahore.
1918: Rangers DG instructs the personnel to formulate a strategy in consultations with the police. 
1858: House-arrest orders for certain religious leaders are expected.
1857: Army has been requested to take over the sensitive buildings and installations of the city.
---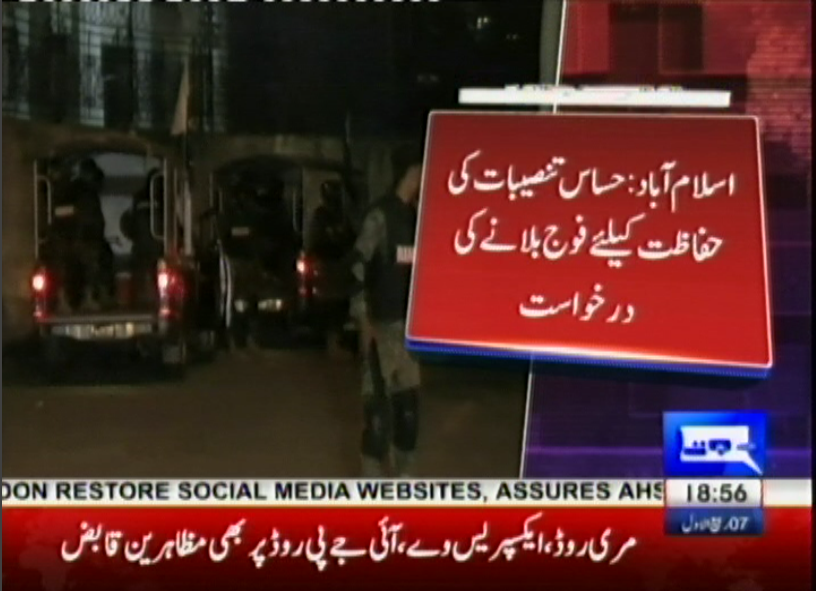 Screenshot courtesy Dunya News
---
1855: Rangers have arrived at Mall Road of Lahore.
1847: Pakistan Broadcasters Association (PBA) has strongly condemned the attacks on the media as the protesters beat up media personnel at various points and a DSNG of a private news channel was also set on fire.
1839: Sources claim that Law Minister Zahid Hamid has contacted Prime Minister Shahid Khaqan Abbasi and offered to resign from his position.
1838: The protest leaders say declared Punjab Law Minister Rana Sanaullah a traitor of Pakistan s constitution. Tehreek-e-Siraat-e-Mustaqeem Pakistan chief Dr Ashraf Asif Jalali said that the government was violating the constitution of Pakistan.
1837: Protest leaders instruct the protesters to continue with the protests throughout the country. The sit-in will not be ended unless demands are met, the leaders say.
1815: Ahsan Iqbal talks to Dunya News:
Interior Minister Chaudhry Ahsan Iqbal said while talking to Dunya News shouldn t cover the operation since it could incite people to violence. He said that social media and TV channels will soon be restored.
Ahsan Iqbal said that the TV channels were taken off air because some channels were doing live coverage of the operation and the government had no other option but to stop the coverage and the live commentary.
The federal minister said that the activities of the protesters were being exploited by the Indian media to malign Pakistan.
When asked, Ahsan Iqbal said that the protesters cut the wires of the entire Safe City project. "This is not an ordinary person s job. This is a specialised job and impossible for a commoner to carry out", he said.
He requested the religious clerics to play their role in normalising the situation. Iqbal refused to disclose the strategy to deal with the operation on the media but assured that the media channels will soon be restored.
Earlier, army chief General Qamar Javed Bajwa phoned Prime Minister Shahid Khaqan Abbasi and advised him to handle the situation peacefully as violence wouldn t be in national interest.
COAS telephoned PM.Suggested to handle Isb Dharna peacefully avoiding violence from both sides as it is not in national interest & cohesion.

— Maj Gen Asif Ghafoor (@OfficialDGISPR) November 25, 2017
---
Live operation updates from all major cities of Pakistan
---
Situation in Islamabad:
The protesters are currently occupying Murree Road, IJP Road, Expressway and other areas, torching motorbikes and setting other public property to fire too. Police and Frontier Corps (FC) personnel retreated from their positions while the protesters are currently occupying the Faizabad Interchange.
Army has also been called in order to secure the sensitive installations in the city.
Shelling and firing have started once again at Faizabad Interchange. One died and 5 were injured.
Zahid Hamid s house attacked in Sialkot:
The protesters also attacked Federal Law Minister Zahid Hamid s residence in Sialkot but were dispersed when the police arrived at the scene and started shelling. The protesters broke into Zahid Hamid s house and started damaging his property.
Update at 2355: Protests continue in Sialkot as the religious parties hold sit-ins on all the exit points of the city. TLY and other parties are holding sit-in at Do Burji Chowk. The sit-ins have been joined by religious clerics and workers of the religious parties. Roads are blocked while the traffic is almost at a standstill throughout the city.
Situation in Rawalpindi:
Former Interior Minister Chaudhry Nisar Ali Khan s residence was also under siege as the protesters sat outside his home. A godown was set on fire just outside his home but the protesters didn t allow the fire brigade to reach the scene and put out the fire.
The protesters broke into Chaudhry Nisar s home and started damaging the property.
Punjab Chief Minister Shehbaz Sharif phoned Chaudhry Nisar Ali Khan. Nisar told him about the situation outside his home.
---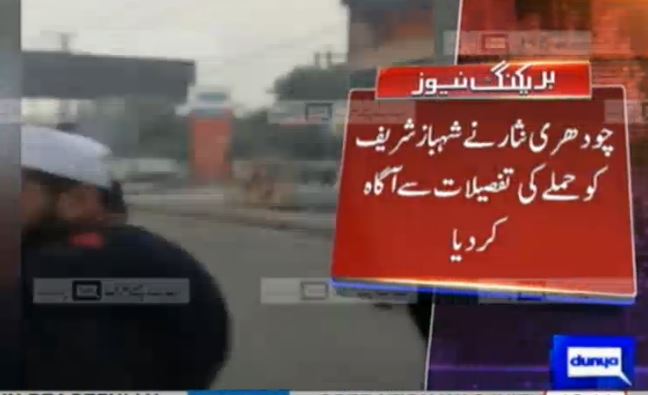 Screenshot from Dunya TV
---
The number of dead in Rawalpindi s Benazir Hospital has risen to 5 as 3 more succumbed to injuries as per hospital sources.
Situation in Lahore:
The largest city of Punjab is under complete lockdown. The protesters are currently holding sit-ins at Imamia Colony, Ferozepur Road, Shahdra, Kutchehri Chowk, Chohang on Multan Road, Lakshmi Chowk, Thokar Niaz Baig, Chungi Amarsadhu, Garhi Shahu, Mughalpuram Liberty Chowk, Johar Town, Punjab Assembly, Shah Alam Market, Timber Market and various other areas.
The protesters blocked the railway line at Imamia Colony. Babu Sabu Interchange is also blocked. According to reports, there are 35 points in the propvincial capital where the roads are blocked.
Moreover, M2, the motorway that connects Lahore to Islamabad, is also blocked by the protesters and Metro Bus Service is blocked too.
Shahdra Police Station was set on fire by the protesters.
Rangers have also arrived at Mall Road of Lahore where protesters are gathered in large numbers outside Punjab Assembly. Security of Punjab Assembly and Wapda House has been handed to Rangers.
---
House has been handed to Rangers.
---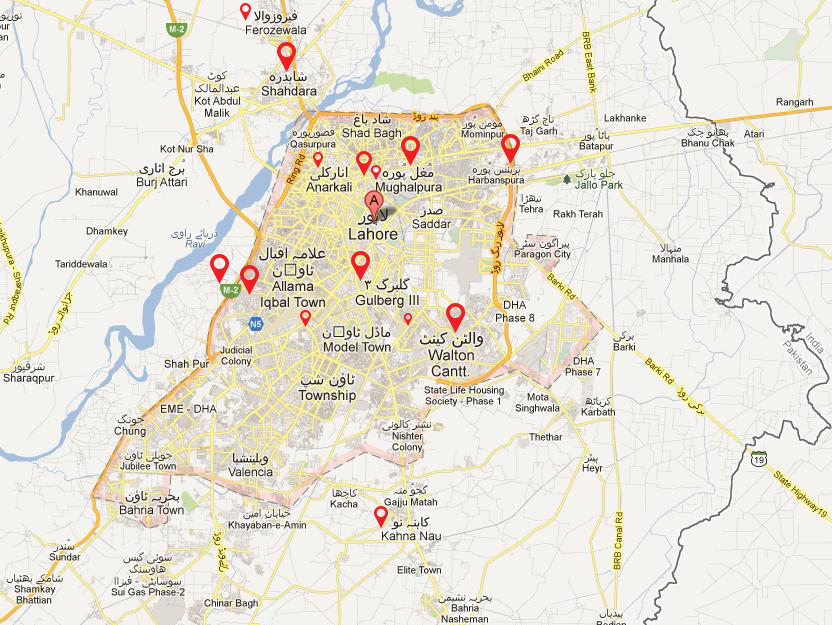 Points where major protests are being held in Lahore
Update at 0011 on November 26: The sit-in protests continue at 19 points in Lahore still.
---
Situation in Sheikhupura:
Pakistan Muslim League – Nawaz (PML-N) MNA Mian Javed Latif went to the protesters to hold talks but the protesters started beating him. The parliamentarian ended up in the hospital with injuries. Some of the people accompanying him to the scene of the protest were also injured on the occasion.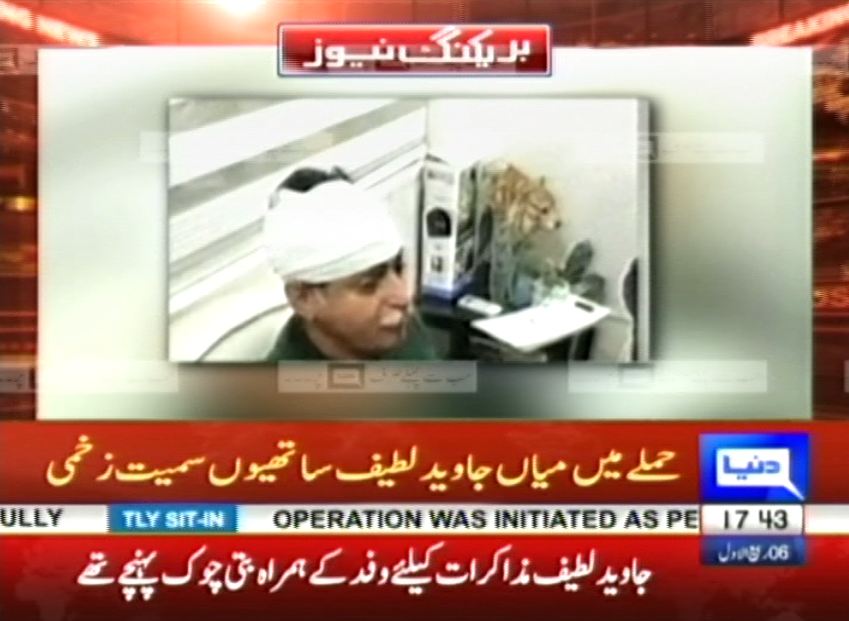 Javed Latif in hospital
---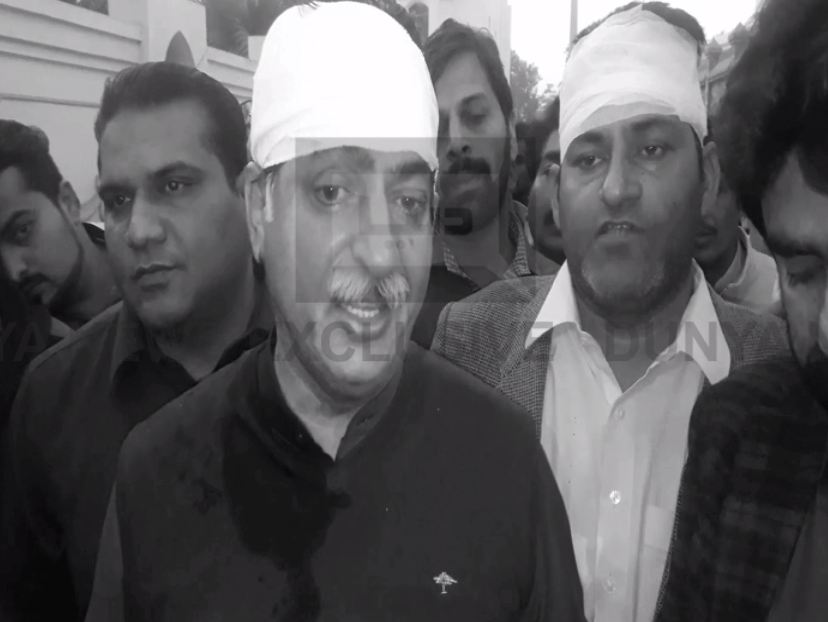 Javed Latif talks to media after being attacked. He can be seen with a bandage around his head. Screenshot source: Dunya TV
Clashes were observed at Numaesh Chorangi and Shah Faisal Highway. Police did shelling against at Shah Faisal Highway to get the road cleared from the protesters.
Update at 2357: Trains coming to Karachi from almost all parts of the country get late due to the protests.
(Source Dunya T.V)