ISLAMABAD (web desk) – PML-N candidate Shahid Khaqan Abbasi has been elected as the interim prime minister for 45 days with a clear majority of 221 votes, thanks to the support from his own party, MQM and other coalition partners.
PPP candidate Naveed Qamar secured 47 votes while Sheikh Rasheed got 33 votes with support from PTI and PML-Q. JI's Sahabzada Tariqullah received a mere 4 votes. It should be mentioned that Nawaz Sharif had taken a majority of 224 votes from the lower house when he contested in voting for premiership.
Voting to elect the new prime minister after ouster of Nawaz Sharif in Panama case has been completed. The four candidates to compete in the parliament were Shahid Khaqan Abbasi (PML-N), Sheikh Rasheed (PTI/PML-Q), Naveed Qamar (PPP) and Sahibzada Tariqullah (JI).
PML-N leaders had already started to congratulate Shahid Abbasi with a majority of votes with him. He only required 172-member majority from the total NA seats. PML-N along with its coalition secures an overwhelming majority in the lower house with 209 members in it.
---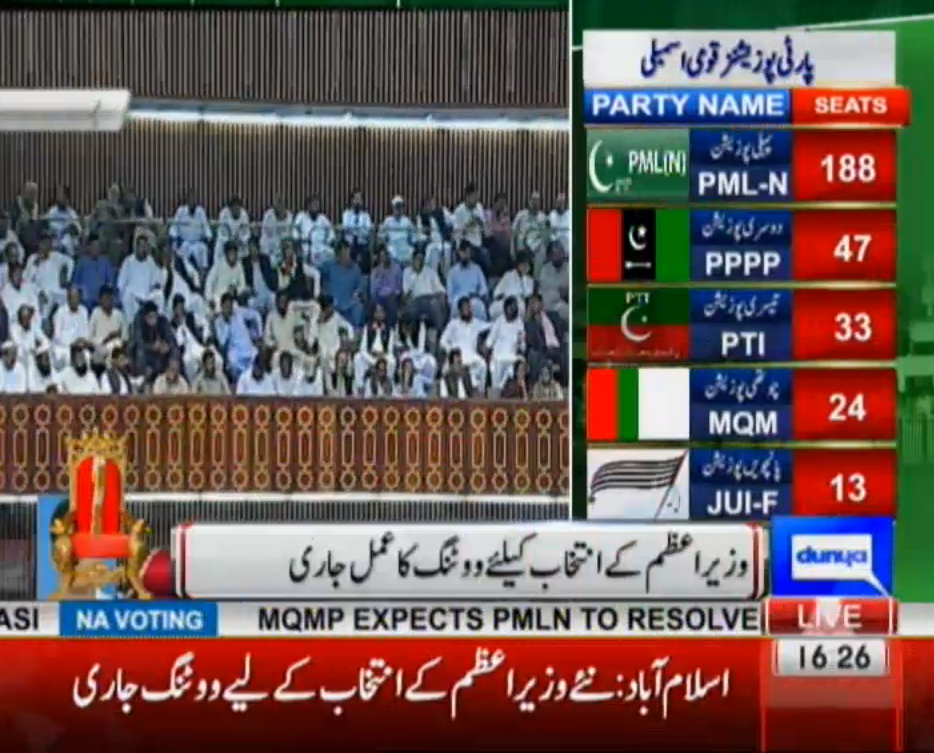 Number of seats kept by major political parties in NA
---
It was earlier told that six candidates will compete for PM position in NA voting, but MQM pledged support to PML-N candidate while PPP withdrew its second candidate which was Opposition Leader Khurshid Shah.
Speaker Ayaz Sadiq will be announcing the winning candidate once the voting process concludes.
The session today was summoned by President Mamnoon Hussain after the top court ordered the state executive to take all steps possible for smooth transfer of powers and take care of the affairs following premier s ousting under Article 62 and Article 63.
The winning candidate is to be elected as the premier of Pakistan for a period of 45 days.
Shehbaz Sharif, brother of ousted premier Nawaz Sharif is to contest polls in NA-128 and in case Pakistan Tehreek-e-Insaf s (PTI) Yasim Rashid is toppled, the Punjab Chief Minister (CM) would be elected as the premier for the remaining term of Pakistan Muslim League-Nawaz (PML-N) in the government which is until June 2018