ISLAMABAD (web desk) – Prime Minister (PM) Nawaz Sharif on Thursday has appeared before the Joint Investigation Team (JIT), constituted by the Supreme Court (SC) to probe much-hyped Panama Leaks case.
Arriving at the Federal Judicial Academy without protocol, PM Nawaz greeted the supporters by waving his hand. He was accompanied by his sons Hassan and Hussain Nawaz, Interior Minister Chaudhry Nisar, Chief Minister of Punjab (CM) Shehbaz Sharif, and Hamza Shehbaz.
---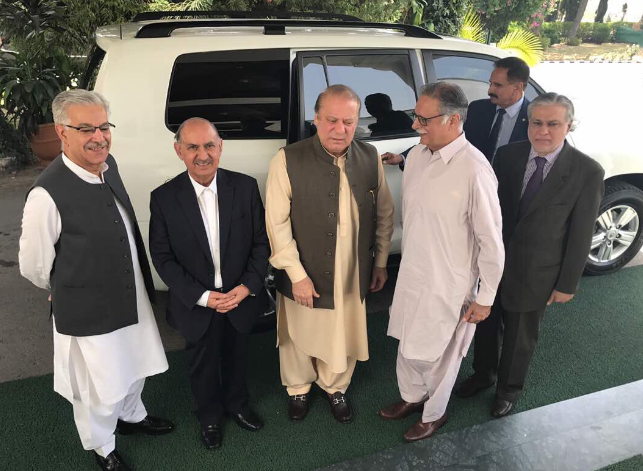 ---
Pictures of Nawaz Sharif before leaving for Federal Judicial Academy
---
Sources told that as many as 11 questions related to the variations in speeches delivered on different forums after the Panamagate surfaced, sale of Gulf Steel Mills, real owner of Nelson and Nescol companies, Hussain Nawaz's gift of millions of rupees, and set up of various businesses in parts of the world will be asked from the premier in his very first JIT sitting.
It is to be mentioned that Nawaz Sharif was called as a witness, not as an accused party in the case.
---
Security beefed up around the academy
---
Islamabad police, under the command of Senior Superintendent Police (SSP) Sajid Kiani, have ensured foolproof security arrangements by deploying at least 2500 security officials at various rooftops around Federal Judicial Academy to avoid any untoward incident.
The roads heading to the academy have been blocked by placing barbed wires to refrain entry of irrelevant persons in the area, the higher police official said.
Journalists and media personnel have been allotted a special entrance and an enclosure with strict directives to not break the security restrictions.
---
PML-N supporters gather in big numbers
---
On the other hand, activists of Pakistan Muslim League-Nawaz (PML-N) including lawyers and women have reached Islamabad to express solidarity with their leader while more banners and posters in support of PM Nawaz in the vicinity of the Federal Judicial Academy have been erected.
Earlier, Punjab CM Shehbaz Sharif and Nawaz Sharif's son-in-law retired Captain Mohammad Safdar had received a summon to appear before JIT on June 17 and June 25 respectively.
---
What is Panama Leaks?
---
On April 20, Justice Asif Saeed Khosa had announced Panama Leaks case decision comprising of 540 pages, saying that the court issued a split ruling calling for a JIT. Two of the five judges went further, branding Sharif "dishonest" and saying he should be disqualified, but they were outnumbered.
The team has been directed to submit a progress report after every two weeks to the apex court whereas it is also supposed to complete the investigation within two months.
Panama Papers had published a leak of documents belonging to Mossack Fonseca, a law firm in April 2016 creating an uproar in Pakistan among other countries. The leak was studied by International Consortium of Investigative Journalists and stated names of incumbent as well as former leaders of the world who owned shell companies.
Opposition parties in Pakistan saw offshore companies owned by daughter and two sons of PM Nawaz as means to either stash wealth in foreign accounts or purchase assets abroad. The top court took up the case in October last year on petitions filed by Pakistan Tehreek-e-Insaf, Awami Muslim League and Jamaat-e-Islami and reserved the verdict in February after conducting hearings on daily basis.
(as reported by "Dunya News")